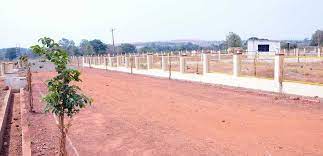 Building a small home is usually less complicated and affordable affair than constructing a large home. But, it is more challenging to find the most suitable, appropriately-sized and cost-effective land for small homes than for good-sized homes. This is where you need to look a land for sale. These days, most of the people aren't looking to pay full price for open plots, as small homes are more
economical to build.
Hubli- A Preferred Choice For Land Purchase Karnataka has always been a favorite real estate investment location for the land
seekers. This is for the reason that there is no scarcity of land for sale in Hubli-Dharwad. There are many reasons for which the demand of land for sale here is growing rapidly.
An economy growing by leaps and bounds,
• Cheap land prices,
• Low construction costs,
• Stable democratic and property laws
• Proximity to basic conveniences
Here are certain factors to look upon before finding land for sale in Hubli-Dharwad
 Decide your community style
 Think up front about the community and location that suits your living style well.
 Site visit is important
 You unquestionably and positively have to do a site visit and walk the entire property. An open and full greenery around the land or field must be your choice.
 Confirm about utilities and infrastructure
 Make sure you will not have to get stressed about water and sewage demand. Also, check whether there are any hidden fees for this or not.
 Review roads and access
 You would like to buy a land that generally has vehicular access to the public road. If it doesn't, make sure the proper easements and the paths are in place.
Research restrictions and site limitations
Check the land's usage restrictions to ensure that you can use this site as you like and build the home the way you want. Restrictive agreements, historic districts, HOA rules, and environmental conditions like wetlands all affect your use of a property. If you want to buy a land for sale in Hubli- Dharwad, then look for a professional. Search for a reputed real estate professional who can help you manage the purchasing without any hassle. There are the agents who specify in the niche markets – property for sale. But you have to do a little research as well.
Make sure to check out the accreditations before appointing them to ensure that they are the best fits for land on sale searches and purchase. Following these steps only won't guarantee the perfect path for purchasing, try searching on your
own as well.